"THE BOSS" III Backgauge Control
---
"The Boss" combines today's microprocessor technology with your printing needs to increase productivity. It automatically positions the backgauge of your cutter faster and more accurately than ever before possible. Ease and simplicity are the key words in operating "The Boss". A calculator keypad on the central control panel is used to enter cut instructions. Memory is flexible- dimensions may be entered in decimals, fractions, or millimeters. "The Boss" can be retrofitted on your paper cutter as quickly as 8 hours- minimizing down time. Install "The Boss" on your cutter today and watch your profits soar.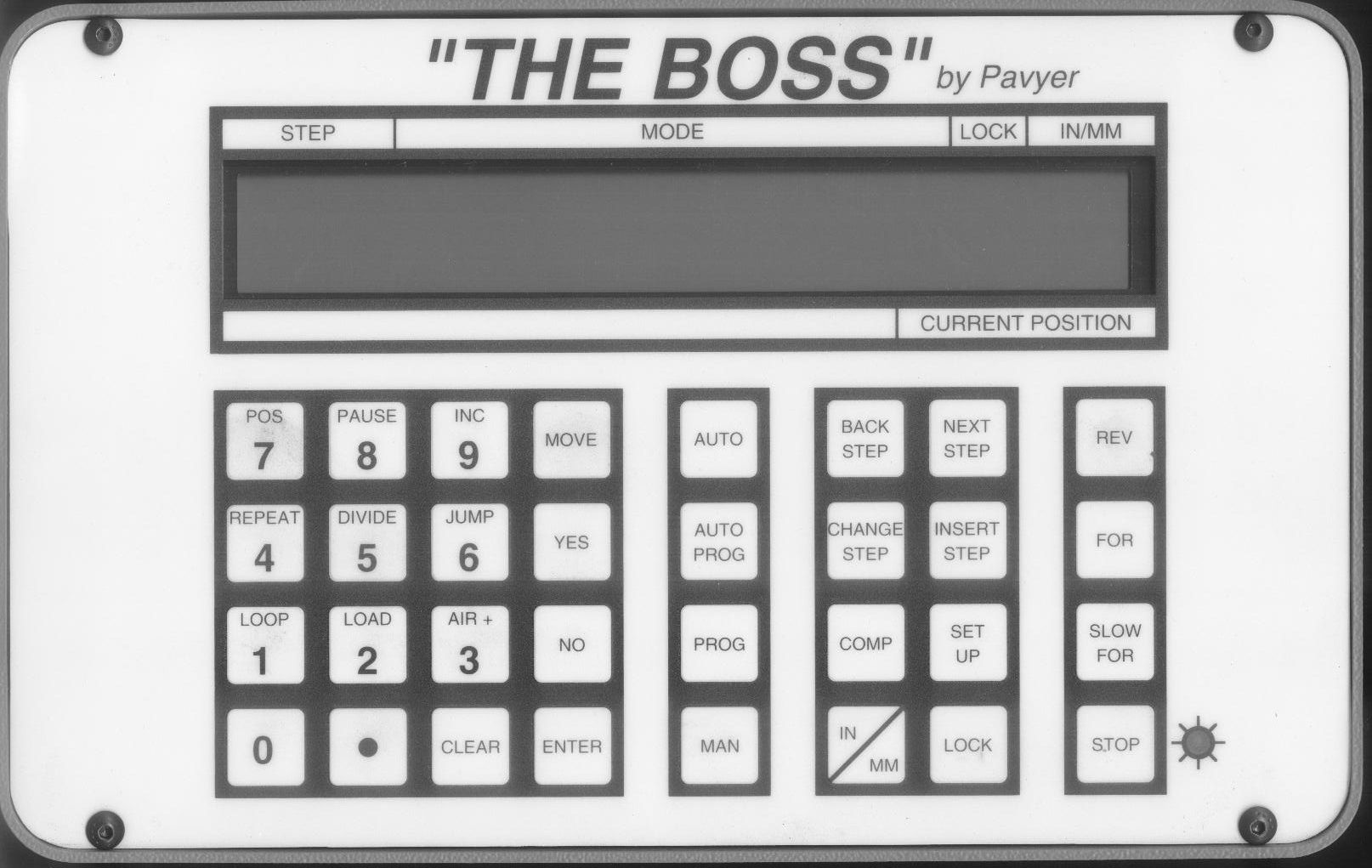 Features and Specifications:
5099 Memory Positions
Incremental & Repeat Programming
Dual Microprocessors
Decimal/Fraction Input
Divide Capability
Program Security
Heavy Duty Encoder
Air Table Control Output
Self-Descriptive Keypad
Auto Knife Stroke Counter
Hour Meter for Power and Usage
Two Line 48 Character LCD Screen
Super Cap for Memory Retention (No Batteries)
AC Inverter with 3 Phase Brake Motor Supplied
220 - 240 VAC 60 HZ Single Phase Power Required
Full Year Warranty on Parts & Labor F.O.B. St. Louis, Mo
Click Here to receive information regarding "The Boss"
If your cutter works fine but the electronics have failed or slow production way down, let Pavyer retrofit it with "THE BOSS." A industry leading back gauge control system with automatic and manual modes. Which allows the operator to complete and save jobs more efficiently, improving your bottom line. "THE BOSS" costs a fraction of a new cutter and can be installed in about a day. For more information contact Pavyer at 1-314-535-0774, or email us at the link below.