CMT 130 Trimmer
Contact Us Today for More Information and Pricing 314-535-0774 Ask for Brad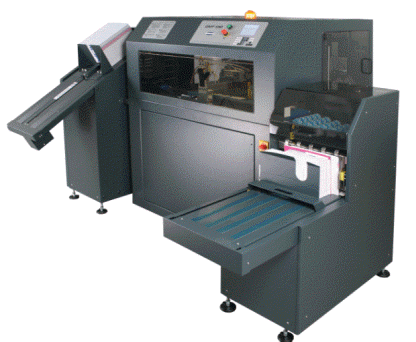 CMT 130 Trimmer Near Line Configuration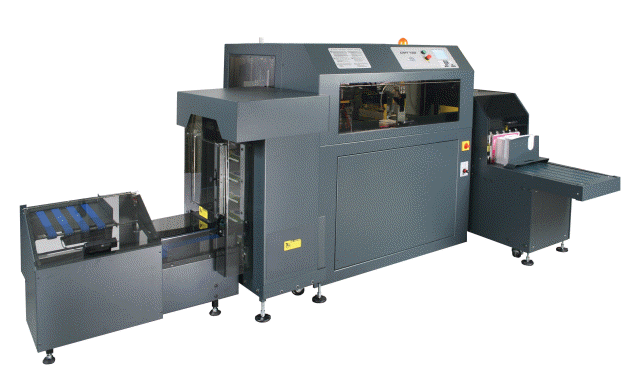 CMT 130 Trimmer In Line Configuration
Click Here to View Video of the CMT-130
Short-run perfect binding has made great strides within our industry in recent years. Trimming duties have been carried out by traditional guillotines for many years, but this process is very time-consuming and less than ideal for the dynamic digital book publishers of today. Drawing on over 139-years of cutting experience, Challenge set out to design and build the ultimate book trimming solution needed for today's competitive marketplace – the CMT 130.

The sturdy steel and cast-iron design of the CMT 130 ensures years of trouble-free operation. Hydraulic clamping and cutting action provides strength to cut through up to 2" (50.8mm) thick books without hesitation. Standard features such as UHMW gib surfaces, composite bushings, and stepper motor technology require virtually zero maintenance.

The industry-exclusive modularity of the CMT 130 provides added possibilities for future growth within your organization.

The CMT 130 can be configured as a hand-feed off-line trimmer for cost-effective trimming. The optional high-capacity feeder permits up to 36" / 914 cm of books to be stacked and automatically fed into the trimmer. The optional vertical stacker allows up to 24" / 609 cm of books to be delivered. When these two items are combined, this near-line trimming solution permits the perfect binder operator to also feed and collect product from the CMT 130 solution. The CMT 130 can also be configured for true in-line trimming by substituting the book pile feeder with our infeed conveyor and cooling elevator. A variety of conveyors are available to interface your perfect binder with the CMT 130.

The intuitive menu-driven controller allows variable mode data entry with up to 99 job storage. Swift size changes occur in approximately 10 seconds with no tools required! Machine self-diagnostics and error indication walk the operator through any difficulties. Third party control via serial communications allows integration of bar code readers/size change apparatus.

Proudly manufactured in the USA, the CMT 130 provides consistent cut quality, durability, and industry-exclusive modularity that you have come to expect from Challenge products. The CMT 130 continues our legacy of providing… assurance you made the right decision.
Trim up to 2" / 50.8 mm thick perfect-bound books
Virtually maintenance-free design
Fully-automated size change in under 10 seconds with no tools required
Modular design – can be configured off-line, in-line, or near-line at any time
Optional bar code size change capabilities
Process up to 200 books per hour – single book mode
Process up to 500 books per hour – optional multiple-book mode
Contact us Today for More Information and Pricing 314-535-0774 Ask for Brad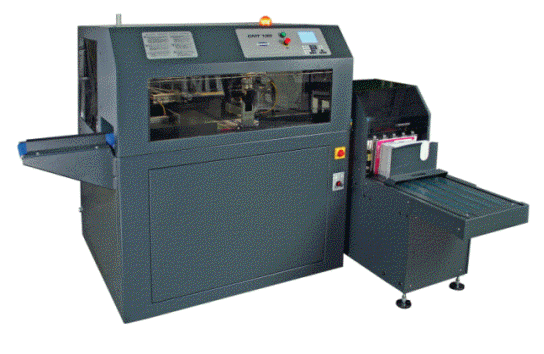 CMT 130 Trimmer Off Line Configuration
S p e c i f i c a t i o n s
Minimum Book Size:
4" x 6" / 101.6 mm x 152.4 mm
Maximum Book Size:
9.5" x 13" / 241 mm x 330 mm
Maximum Book Thickness:
2" / 51 mm
Maximum Trim - Top:
6.0" / 152 mm
Maximum Trim - Bottom:
3.5" / 89 mm
Maximum Trim - Face
5.5" / 140 mm
Minimum Trim - All Sides:
0.100" / 2.5 mm
Speed
Up to 200 books per hour (single book)
Up to 500 books per hour (multi-book)
Memory:
99 Book Jobs
Set-up Time for Book Size Change:
Approximately 10 Seconds
| | |
| --- | --- |
| Overall Height | 60" / 1524 mm |
| Overall Width | 52" / 1321 mm |
| Overall Length | 57" / 1448 mm |
| Net Weight (approximate) | 1500 lbs / 680 kg |
| Shipping Weight (approximate) | 1800 lbs / 816 kg |
3 Phase, 60 Hz, AC
208/230 Volts, 25 Amps (service size 40 Amps)
Air Supply Requirements: 90 PSI, 5 CFM Unlubricated
Contact us Today for Pricing 314-535-0774 Ask for Brad